2017 Artist's Perspective - Call for Entries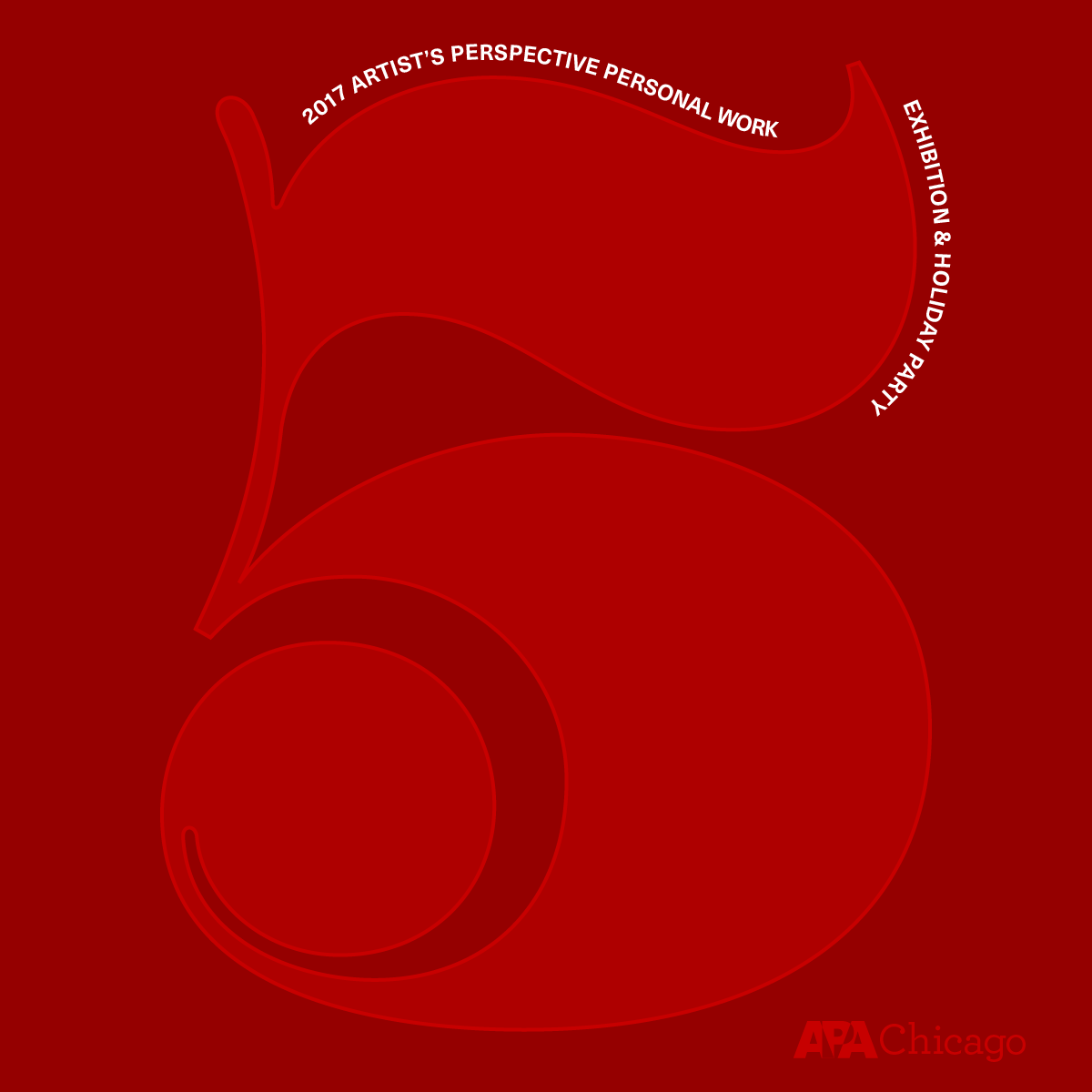 Introduction
APA Chicago is holding our 5th Annual Artist's Perspective Personal Work Exhibition culminating with a one-night gallery opening on Friday, December 08, 2017. We'll be exhibiting selected entries from our esteemed panel of judges.
This is a personal work exhibition and is open to all photographers - professionals, enthusiasts and amateurs. And, APA members and non-members.
Submission Deadline: October 30, 2017 at 11:59 p.m.
Enter Artist's Perspective Exhibition Now
This is APA Chicago's big annual fundraising event. The goals for this event are three-fold:
Generate exposure for photographers based on artistic merit and technical excellence
Raise the necessary funds to bring relevant event creative and educational programming to our community throughout the year
Give our sponsors the opportunity to have a positive impact and build a stronger visual arts community
Personal Work Makes a Statement
In our numerous interviews with agency creatives, we've learned the most effective way to break through and get noticed is with a well conceived and executed personal assignment. Personal projects give photographers the chance to art direct their own vision - taking a blank sheet of paper and making it their own. Agency creatives rely on a photographers personal work as insight into their world view. At APA Chicago our annual competition celebrates the best in photographic personal work.
This image from Alex Garcia was a selection in last year's exhibition.
Top Reasons to Enter
Superb opportunity to advance your career, display your own photographic style.
Our 5th annual impressive juried, personal work photo exhibition.
APA Members get up to a full 50% discount on the Entry fee.
Acclaimed Panel of Judges will see your work.
Online Gallery version of the Exhibit will be up for all of 2017 and beyond, (view last year's gallery).
Top place images proactively promoted to 1500 Creatives via email.
Simple, reliable, secure online entry procedure, through the APA National website.
No limit to the number of images you can enter.
No date-created limitations.
World Class Judges
Kelly Komp, Creative Director at Multiple, Inc.
Principal and Creative Director at Multiple, Inc., Kelly Komp graduated from Ball State University with a BFA in Graphic Design. A former co-founder and Creative Director of Chicago-based Tandemodus, his award-winning strategic thinking and communication design capabilities have brought clarity and energy to organizations such as DePaul University, Fresenius Kabi USA, McGraw-Hill Education, The Nature Conservancy, and Rotary International.
In addition to Multiple, Inc., Kelly is also co-founder of ForthLevel, a corporate off-site rental facility in Chicago's West Loop, and co-owner of Cusp Conference, a conference about the design of everything.
He's a former Chicago Chapter board member of the American Institute of Graphic Arts (AIGA) and instructor of Design for the Web at Chicago Portfolio School. And he credits his experiences slinging tacos, shagging golf balls at a driving range, filing records for a law firm, operating a forklift and bagging ice in a 20° factory with providing him with a love of not doing any of those things today.
Jennifer Murray, Executive Director at Filter Photo
Jennifer directs the planning of Filter Photo Festival as well as programming at Filter Space gallery. She is a founding member of the Chicago-based curatorial collective The Exhibition Project, which curates photography related exhibitions engaging new audiences with emerging artists. Most recently, she was a juror for Photolucida's Critical Mass 2016 Top 50 and is the inaugural curator for Gallery 19's Meed 1 competition and mentorship program in Chicago. She has lectured widely on various photography subjects and continues an active photographic practice working in and with photography to examine our cultural relationships and histories with objects. Murray has been awarded grants from the Chicago Department of Cultural Affairs and Illinois Arts Council Agency. She was Director of Averill and Bernard Leviton A+D Gallery, at Columbia College Chicago for eleven years where she organized a broad range of exhibitions in art and design. She is currently an Instructor of Photography at Loyola University Chicago and received an MFA in photography from Columbia College Chicago.
Alyssa Schukar, Photographer
Based in Chicago, Alyssa Schukar is an independent photographer producing photo and video projects for national and international clients. In her personal work, she's interested in examining how our surroundings shape our communities and individual experiences. In recent years, she's focused on environmental injustices emerging throughout the Rust Belt. This work was recently honored with Cliff Edom's "New America Award."
World Press Photo, Pictures of the Year International and the National Press Photographers Association have honored her work, and in 2014, she was named the Great Plains Photographer of the Year. In 2016, she participated in the New York Times Portfolio Review, and in 2017, she will lead two photographic workshops.
A frequent contributor to the New York Times, her images have appeared in The New Yorker, Chicago magazine, The New York Times Magazine, TIME Magazine, The Washington Post and The Wall Street Journal, among others. National commercial clients include UPS and Glenmorangie. Recently, she participated in a national photo campaign for The New York Times T Brand Studio.
Additional judge(s) to be announced soon.
Entry Fees
Non-Member Entry Fee: $40 per image
APA Member Entry Fees:
Leaders: $20 (save $20 per entry)
Professionals: $20 (save $20 per entry)
Associates: $25 (save $15 per entry)
Supporters: $25 (save $15 per entry)
Contributors: $30 (save $10 per entry)
Not an APA member? Now is a great time to join APA and receive up to a 50% discount on each image you enter.
Current APA member looking to upgrade your membership contact: members@apanational.org.
Contest Rules
Only digital images and payments are accepted, through our online entry process.
A single entry is one image.
There is no limit on the number of single entries submitted.
You may not win for an image that has won an Award in a previous Artist's Perspective competition.
There is no restriction on when the entry images were created.
By entering the 2017 Artist's Perspective Annual Photo Competition, Entrants:
Warrant to APA Chicago that they have created and own the work submitted (including all elements of the work) and that nothing within any work has been copied or added from another person's work.
Warrant that the whole copyright and any other form of intellectual property right in the work is vested in them.
Warrant that they have not in any way assigned, licensed, disposed of, or otherwise encumbered any of their rights which allow them to deal freely with the work and the copyright therein.
Warrant that they have obtained model or property releases from any persons and/or property owners requiring such, featured in their submitted photographs allowing publication in any and all media forms.
Agree that their work may be exhibited or shown during APA sponsored events, as well as on the APA website and APA promotional materials, allowing for the photographer to retain complete control over the licensing and sale of their work.
Agree that APA may reproduce and may allow reproduction of winning images in APA approved publications. Credit will be given to the photographer for any image(s) used.
Acknowledge that APA Chicago relies fully upon the warranties and license given by Entrants when submitting their entries for consideration to the 2017 Artist's Perspective Annual Photo Competition. Entrants indemnify and hold APA Chicago harmless from any claims, actions, proceedings, costs and expenses arising as a result of any allegation that the relevant Entrant did not own or is not wholly entitled and authorized to allow publication and reproduction of the work by APA.
APA Chicago reserves the right to disqualify any winner not providing the required personal information, headshot, and/or winning image in the requested file format and size within one week of APA Chicago's request via the contact information supplied by the entrant. Replacement winners will be selected at the judge's discretion.
Judging is a blind process. Photographer's names will only be disclosed to the jurors after the judging process has been completed. The decision of the judges of the competition shall be final and binding.
Entrants retain full copyright to their images and grant no usage to APA Chicago other than those granted herein. APA Chicago, the Sponsors, or Venues showing an exhibition of winners shall not be liable for any loss or damage of any entry. Submission of an entry to the competition automatically constitutes the contestant's acceptance of all conditions set forth in the above rules. It also acknowledges the right of APA Chicago to use the photographer's likeness and information, as well as the winning images, in exhibitions and promotions, in any and all forms of print, electronic and digital media, related to the APA Chicago Annual Photo Competitions for up to 24 months following the 2017 Competition winners' announcement.
Entry fees cannot be refunded, once submitted.
Winners will be announced on about November 6, 2017.
Submission Guidelines
Please read contest terms, and then follow these guidelines and image requirements carefully to ensure proper submission of your entries.
APA member's can login using their APA credentials. Non-members can enter images into the contest by creating a guest account with business name, email address and password.
A single image entry is one image.
Please note, this year there is no "series" category - only single images.
You can upload as many images as you would like during the process.
All files must be jpgs, no smaller than 800 pixels on the longest side, and at most 1280 pixels, 72 ppi, sRGB color profile, with no visible identifying text/symbols.
Image files need no unique title by the entrant; they are assigned an arbitrary ID for "blind" judging.
You'll see a preview of your images.
We have only one (1) category "Personal Work.".
Preview your submission.
Pay Fees, Receive Confirmation
Once you have paid, your submission is final and you will not be able to edit your images.
You can return to your account to enter more images.
Upload Guidelines
All files must be jpgs with a file size limit of 10mb.
Simple alphanumeric file naming please. Do not use special characters like @,©,!, etc.
Image size no smaller than 1280 pixels on the long side.
Color profile is sRGB, image resolution 72ppi
Images should have no visible identifying text/symbols, entries are assigned an arbitrary ID for the "blind" judging.
Single image entries only
Exhibitor Prints
All images that are selected for the one-night gallery exhibition will be inkejet printed at 16" x 20" and then mounted to 1/8" graphic quality tempered masonite, edges are bevelled at 45 degrees, a UV non-glare film is applied to and finished with a a 3/4" deep recessed floating cleat backframe. Lamin-8 service bureau has offered us a non-profit volume discount so Print Fees (including sales tax) will be $67. There is no APA frame mark up, no hanging fees, and the finished piece is yours to keep. This year we are again accepting entries from all photographers, no matter where you live. If you, or someone you trust are unable to attend the Exhibition and take your framed print(s) home at the end of the event, and would like it shipped to you, please note that you will need to provide, in advance: a Fedex Air or Ground account number and a $30 check for the packaging and handling fee for each framed print.
Sponsors