2021 Artist's Perspective - Call for Entries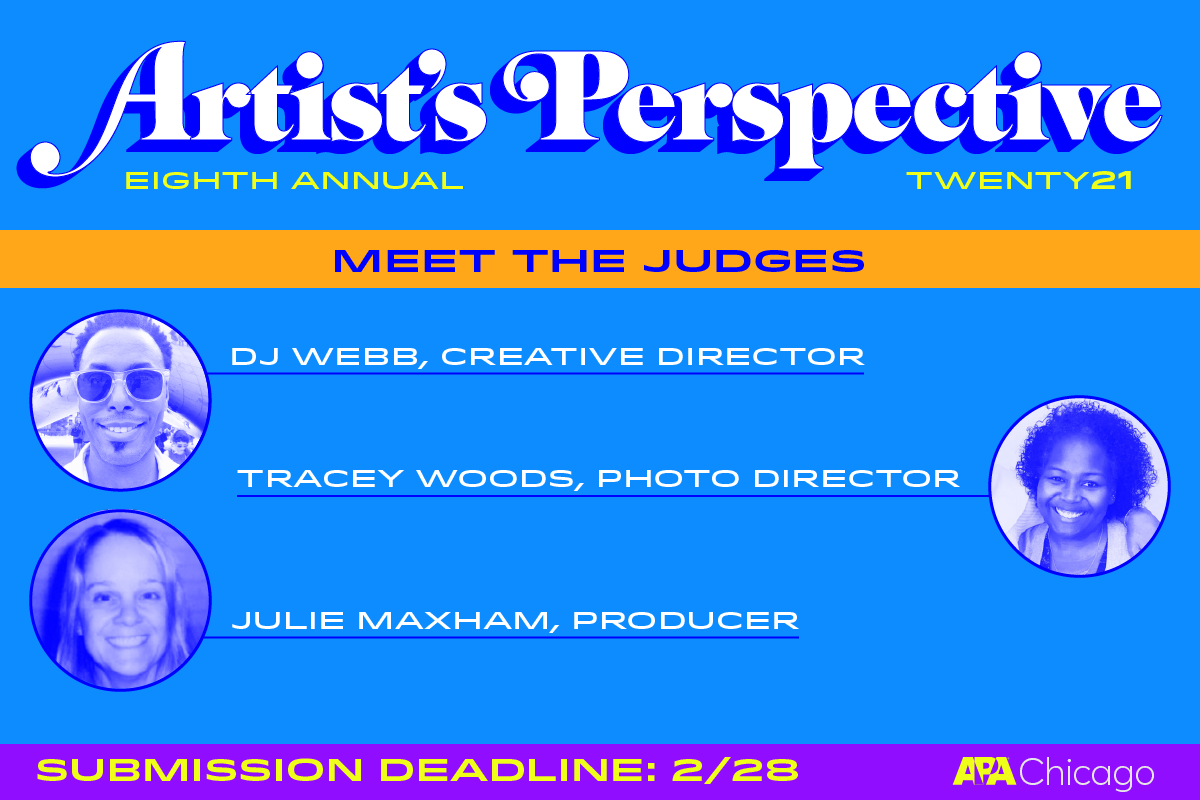 Tracey Woods, DJ Webb, and Julie Maxham curates APA Chicago's 8th Annual Artist's Perspective Personal Work Exhibition.
APA Chicago is holding our 8th Annual Artist's Perspective Personal Work Exhibition culminating with a one-night virtual gallery opening on Thursday, April 8, 2021. We are excited and proud to announce that DJ Webb, Julie Maxham, and Tracey Woods will be curating this year's exhibition. These creative professionals are strong advocates for original photography and photographers throughout their accomplished careers.
This is a personal work exhibition and is open to all photographers - professionals, enthusiasts, and amateurs. And, APA members and non-members.
Submission deadline: March 8, 2021 at 11:59 p.m.
Personal work makes a statement
In our numerous interviews with agency creatives, we've learned the most effective way to break through and get noticed with a well-conceived and executed personal assignment. Personal projects give photographers a chance to art director their vision - taking a blank sheet of paper and making it their own. Agency creatives rely on a photographer's personal work as insight into their world view. At APA Chicago, our annual competition celebrates the best in photographic personal work.
Top reasons to enter
Superb opportunity to advance your career, display your own photographic style.
Our 8th annual personal work photo exhibition.
APA members receive a 50% discount on the entry fee.
Online Gallery of the exhibit will be up for all of 2021 and beyond
Simple, reliable, secure online entry procedure, through the APA National website.
No limit to the number of images you can enter.
No date-created limitations.
Meet the judges
Tracey Woods, Artist + Photo Director. Tracey is a creator at heart. Armed with over a decade of experience in photoshoot production, creative direction, and photo research, Woods most recently served as Photo Director at Essence Communications. Her selected client roster includes Revlon, Bulova, L'Oreal, General Mills, Verizon, and Bon Appétit and InStyle magazines.
DJ Webb, Creative Director. DJ first started his career as a courtroom artist in his hometown of Richmond, Va. At that time, he never imagined the talented individuals, teams, and clients he would encounter through the arts of advertising and design. The brand worked on include: U.S. Army, Coca-Cola, McDonald's, Samsung, Verizon, OfficeMax, United States Postal Service, State Farm, and more.
Julie Maxham, Photo + Motion Producer. Julie is a seasoned art producer currently freelancing at AbelsonTaylor in Chicago. Past agencies include FCB Chicago, VMLY&R, VSA + Partners, O'Keefe Reinhard & Paul, Cutwater, TBWA/CHIAT/DAY and Venables, Bell and Partners. She has produced shoots for Clorox, Cox Communications, IBM, Harley Davidson, Goose Island Beer, Leica, Nissan and Tyson Foods to name a few. Prior to art production, Julie worked with the photo rep Sarah Laird, The Howard Greenberg Gallery, the Annie Leibovitz Studio and Aperture in NYC.
Entry fees
$15/entry: APA members
$30/entry: Non members
Not an APA member? Now is a great time to join APA and receive up to a 50% discount on each image you enter.
Virtual Exhibition Night
Our virtual exhibition night is scheduled for Thursday, April 8, 2021, from 7:00 - 11:00 PM. We will be utilizing modern digital technology to virtually host our exhibition where registered guests can view all the winning images and interact with other guests. We will begin taking registrations to attend our virtual Exhibition Night on March 12, 2021.