Words: S. Nicole Lane
Pictures: Alyce Henson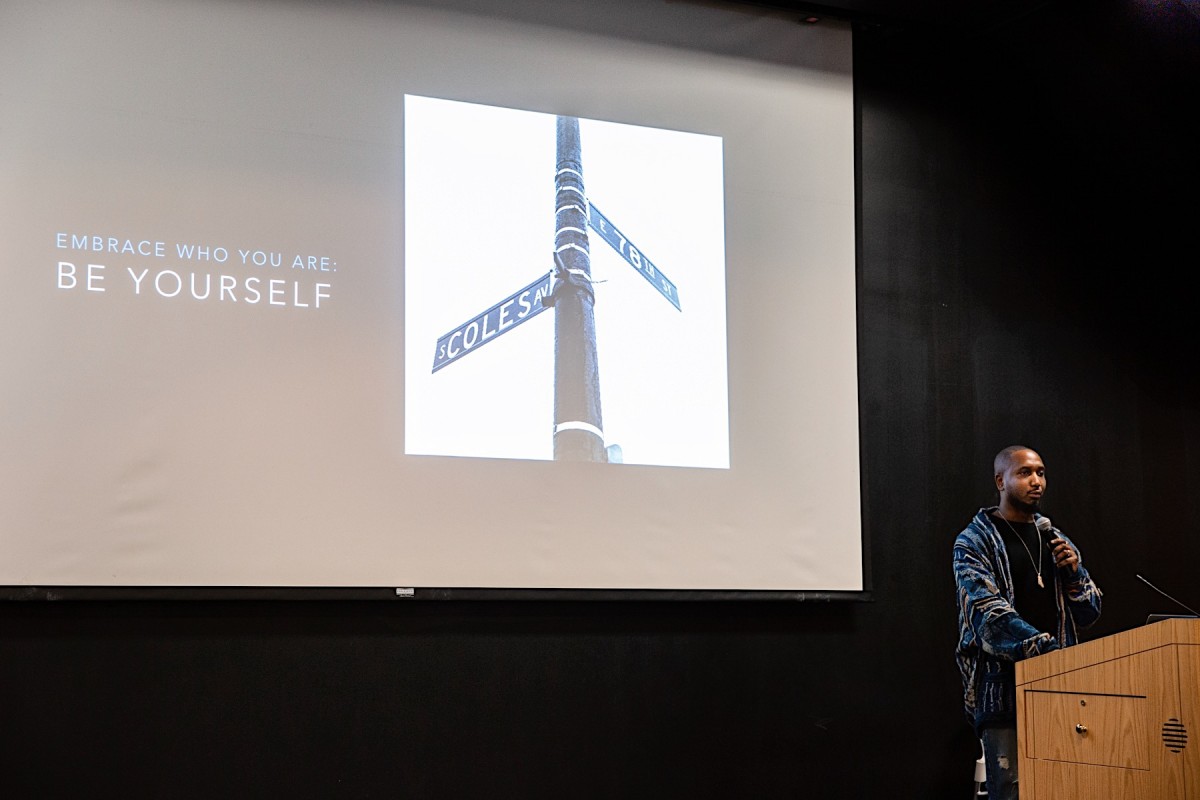 Athleticism weaves through the photography of Marcus Smith's body of work. Having grown up an athlete—specifically playing Basketball—he's personally invested in the experience of the athletes he documents, the thrill of sports, and the body as a tool. The American Photographic Artists - Chicago chapter invited Smith to discuss his beginnings, his career, and his success as a full-time photographer.
Traditional sports photography has been about glitz and glamor, but Smith decided to shoot what he knew: the raw moments in sports, the pain, the pauses for breath, the authenticity within the game. Smith has learned the ropes, continued to hustle, and propelled his career into photographing famous stars like Lebron James and Kobe Bryant, in addition to working gigs for Pepsi Super Bowl Campaign, Abercrombie, and Nike (to name a few). In the beginning, Smith says, "I was grinding my way towards my style and my look," which is now known to exhibit the authentic and genuine image of sports.
Smith, born and raised in Chicago, has become one of the most successful sports photographers in the field today. Studying Business Economics at the University of Illinois, he was exposed to photography and began to photoshop images for his friends' mixtapes. For Smith he says, his love for photo didn't begin with a camera. It began with music. Listening to Jay-Z, Usher, and Tupac, he found an appreciation for artists who created album covers like Jonathan Mannion and Sacha Waldman. After purchasing his first camera, a Nikon D-40, he decided to go into a rabbit hole and "create good photos." By looking at his favorite album art covers, he worked on mimicking other artists. In 2009, he attended the now-closed Hallmark Institute of Photography where he spent most of his time mastering his skills. At Hallmark is where Marcus would meet Gary Land, an award-winning director and photographer that would jump-start his career, where he worked as Land's assistant and eventual digital tech.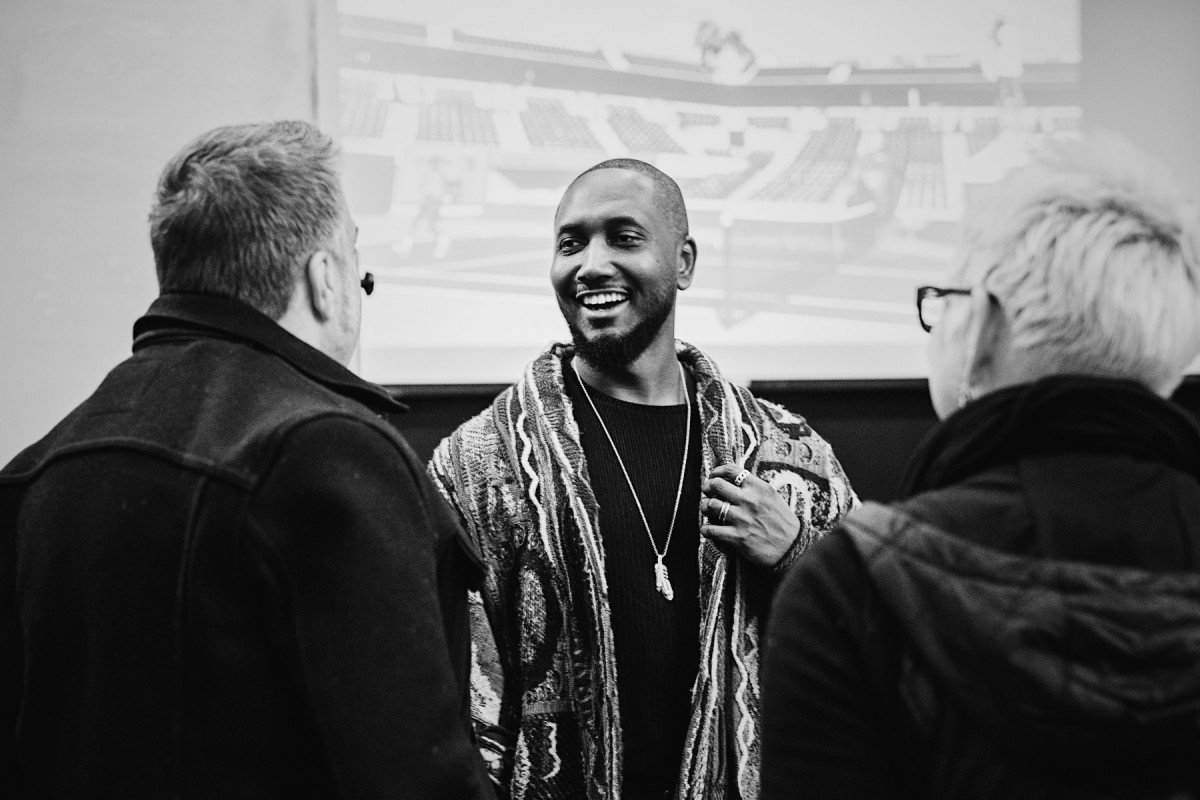 After working with Land in Boston, Smith decided to tackle the industry here in Chicago. He would meet with art buyers and photo editors for twenty minutes to pitch his portfolio and hopefully land a project. "[An artist representative] told me to shoot more white people," explained Smith recalling advice that he didn't take. Instead, Smith says, "I came up with the greatest idea. Shoot more Black people." There is an effort for black and brown creators to "be in front of and behind the camera," explained Smith. Growing up on the Southside playing basketball, it was natural for Smith to create the passion-project Crew Love. He shot Simeon High School Basketball players in the Chatham neighborhood where he became a fixture on the team. This particular project set off Smith's career. In 2012, he created a coffee table book made up of these images: young players sweating on the court, hands raised high before a game, close-ups of stoic faces. Still living on a budget, Smith sent a few copies of the book to friends and a few to ad reps and agents around the country. Eventually, after three months, someone took the bait. And it was a huge catch. Smith was asked to create Michael Jordan's Instagram and his career burst wide open.
"One project leads to the next project which leads to the next project," explained Smith to the audience. He decided to take his money and reinvest it in his own business. He created a website, business cards, and a logo. By 2013, the artist was photographing full-time.
Held at Columbia College, Smith's career is inspiring for those living in a world so riddled with images that take over social media, Instagram, and various other outlets. Somehow, Smith still stands out. Lily, seated a few rows back, explained to me that she follows the APA which is how she heard about Smith. "I didn't know how I would feel about sports photography but looking up his work I realized how inspirational it is." Smith's photographs tell story's. Even if you don't follow sports, his work illustrates the hard work, the pain, the blood, the sweat, and the unmistakable tears it takes to push your body to the fullest.
Be honest with yourself and others about what you want, no matter how far-fetched it sounds. Be fearless, continue to hustle, and most importantly, enjoy the journey.
Projects like going to China with Lebron James, working on the ESPN Body Issue, and shooting Kobe Bryant's retirement campaign would all land in Smith's lap due to his persistence and business mind-set. Smith's advice to the audience—which was filled with many Columbia students—was to "Be honest with yourself and others about what you want, no matter how far-fetched it sounds. Be fearless, continue to hustle, and most importantly, enjoy the journey."
---
S. Nicole Lane is the editorial associate at the Chicago Reader and a regular contributor to Playboy, Sixty Inches From Center, O.School, and MedTruth. She lives on the Southside of Chicago.
---