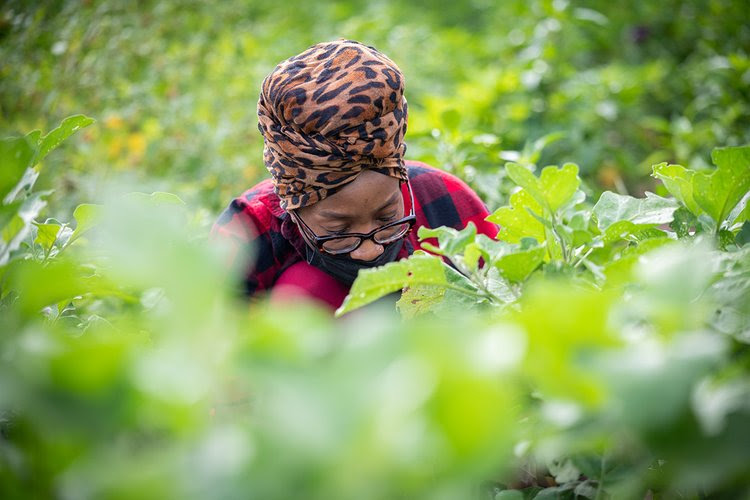 Urban Growers Collective operates 8 urban farms on 11 acres of land, predominantly located on Chicago's South Side
On Friday, July 28, photographer (and APA member) Scott Van Osdol will give a presentation on embracing pro bono work as a creative tool to build your photography business at Stephen Hamilton's Studio in Chicago. The production of this event brings together APA Chicago, ASMP Chicago, the Workbook, and the Urban Growers Collective. Urban Growers Collective is a Black- and women-led non-profit farm in Chicago, Illinois, working to build a more just and equitable local food system. They aim to address the inequities and structural racism in the food system and communities of color. Rooted in growing food, their mission is to cultivate nourishing environments which support health, economic development, healing, and creativity through urban agriculture.
The term "pro bono" comes from the Latin pro bono publico, which means "for the public good." Throughout his career, Scott Van Osdol has worked with strategically selected pro bono clients to build his portfolio and career, being featured in Communication Arts and being named one of the 200 Best Advertising Photographers by Lürzer's Archive. Pro bono work provides an excellent means to develop one's craft. Here are three additional reasons to engage in pro bono work:
Client Interaction. In contrast to paying work, pro bono work often provides an opportunity for immediate, meaningful client contact.
Develop New Skills. Pro bono gives you the freedom to develop skills and a body of work outside your niche.
Personal Satisfaction. Pro bono service is gratifying and can strengthen the connection to your community.
The Opportunity with Two Options
APA Chicago, ASMP Chicago, and the Workbook have partnered with Chicago-based Urban Growers Collective (UGC) with a pro bono opportunity that includes a couple of options for our community.
Option 1: On Saturday, July 29, join Scott Van Osdol taking pictures and giving back at Urban Growers Collective farms around Chicago. We need photographers, video makers, drone pilots, and H&MU artists.
Option 2: Collaborate with UGC to help document their growing season from June-October 2023.
If you're looking for a short-term one-day project or a year-long assignment to build a more complete body of work—we've got you covered.
If you are interested in either option please click the button below to be redirected and complete our Google form to express interest.