APA Open Talk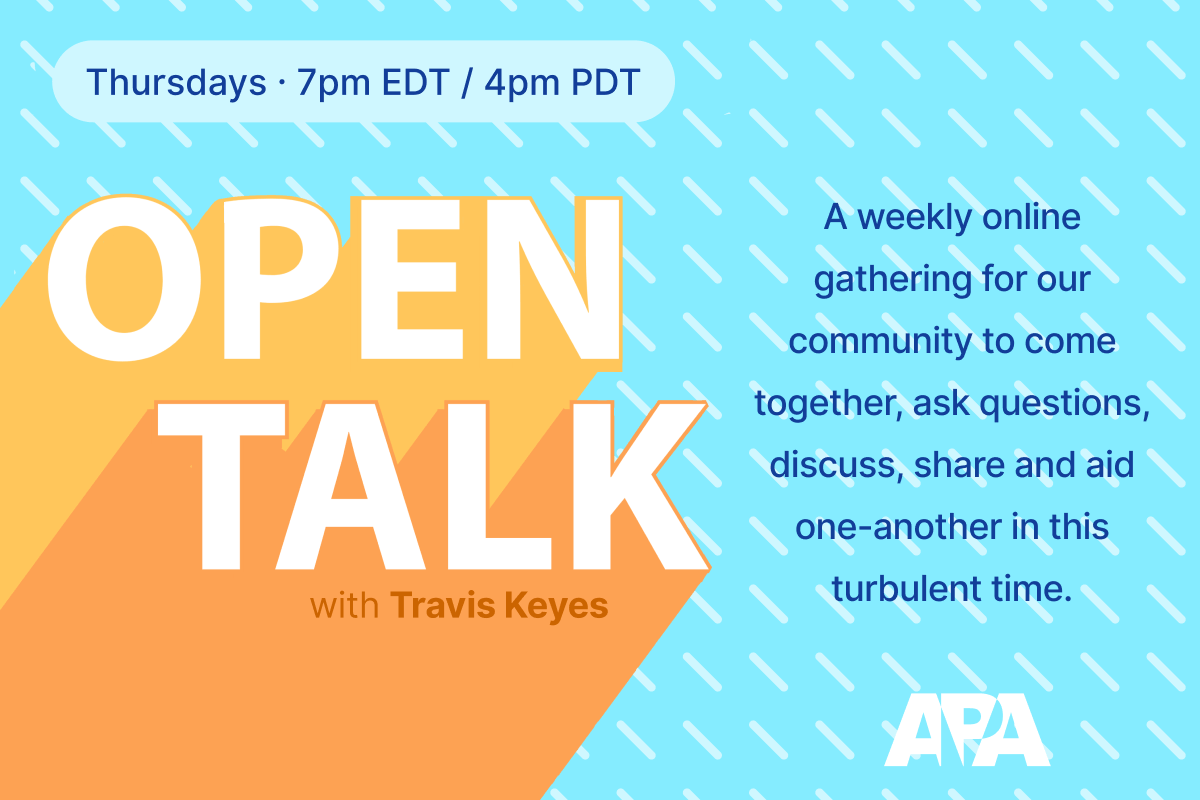 Overview
APA Open Talk is a weekly online gathering for our community to come together, ask questions, discuss, share, and aid one another in this turbulent time moderated APA member and photographer Travis Keyes. Each week we will have a selection of speakers accepting questions from the first 100 participants to register through Zoom.
The Zoom online discussion takes place live every Thursday starting at 7:00 PM Eastern Time (US and Canada) for the first 100 registrants. If the Zoom registration is full, anyone can watch live (or later) on our APA YouTube Channel.
May 21, 2020, Episode 10—Hosted by Travis Keyes
Panelists include Neil Kremer and Cory Johnson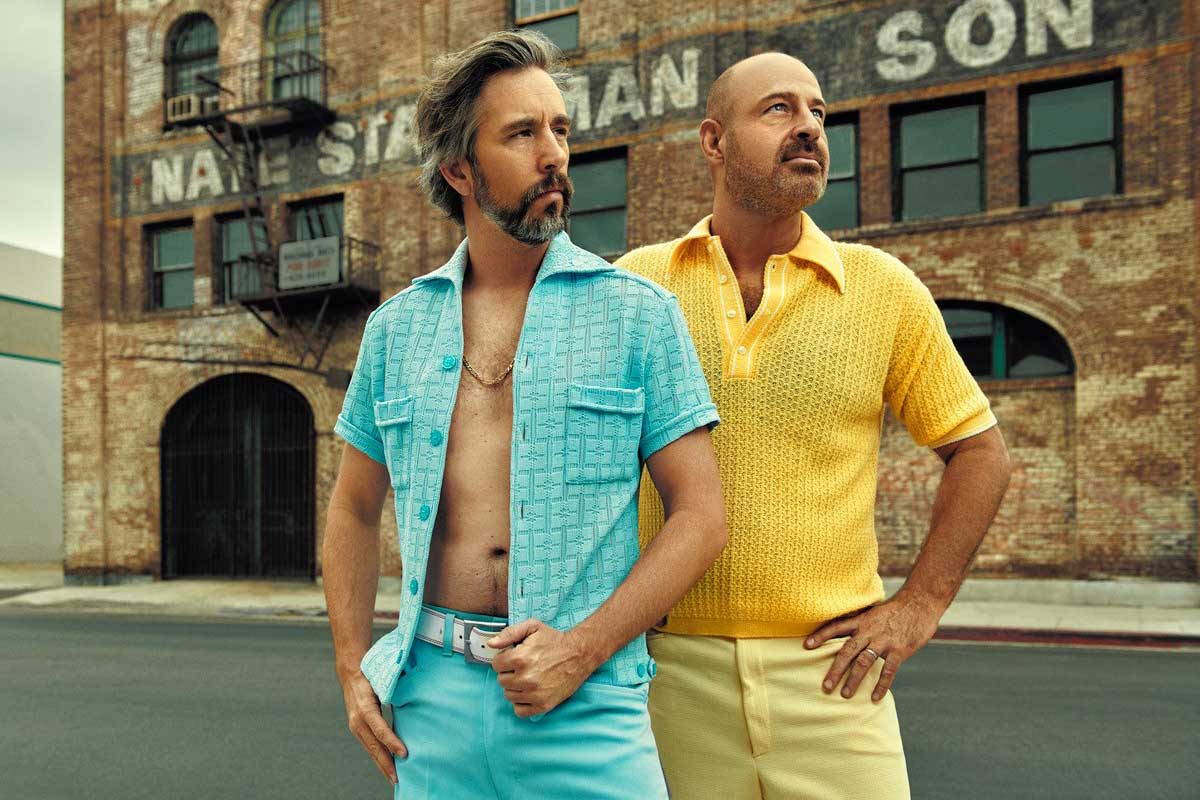 Open Talk, Episode 11 panelists include Neil Kremer and Cory Johnson of Kremer/Johnson
How to register or watch:
Neil Kremer + Cory Johnson, Photographers, at Kremer/Johnson
Neil Kremer and Cory Johnson are the duo behind Kremer/Johnson. They are narrative-driven conceptual images & story-telling team, and they specialize in capturing authentic moments in even the most manufactured of settings.
They are creative chameleons—neither boring nor one-dimensional. They like a lot of different things, so that's what they shoot. Crafting the look & feel of each image to suit the story they're trying to tell. The stylistic choices are always made to serve the image & push the narrative forward.
True collaborators at heart, they formed Kremer/Johnson to explore our combined creative vision. They share in all duties from ideation & pre-production through shooting & post. Together creating award-winning still & motion campaigns for advertising clients nationwide.
---
May 14, 2020, Episode 10—Hosted by Travis Keyes
Panelists include Annika Howe and Frank Meo
How to register or watch:
Annika Howe, Executive Producer/Owner, at HoweHaus
Annika Howe helps photographers bring their creative projects to life. She especially values international projects with a positive social impact. Projects for Nike, Adidas, Leading Hotels of the World, Visa & BMW have taken her across the world and back. She's known for her warmth, cultural savviness & resourcefulness. Initially honing her diplomacy by working in the German Parliament and her resourcefulness as a freelance tv journalist throughout Europe, Annika then moved Stateside, working for a commercial film production company. Those years working in film production organically led to producing photo & video shoots as well as a geographic move to New York City. Giving back to the community & fostering the next generation is of great importance and she can often be found moderating panels, hosting talks & facilitating workshops to support the international media industry & female entrepreneurs.
Frank Meo, Owner at The Photo Closer
Frank Meo is currently a speaker, portfolio reviewer and judge for various trade groups and learning institutions: PhotoShelter, Eddie Adams Workshop, PDN Plus, ICP, Syracuse University, DC Fotoworks, APA, Palm Springs Photo Festival and ASMP. I've judged for the Lucie Awards, Sienna Photo Awards, Webby Awards, Moscow Photo Awards and PDN Portraits among other competitions. I've written for a variety of trade publications including: American Photography, Resource Magazine and Pro Photo Daily. My "Creative Separation" and "Creative Estimating and Negotiation" workshop has been attended by over 1000 photographers nationwide. I host and I'm extremely proud of our once a month event, PROJECTIONS. You can read about this event on the site.
---
May 7, 2020, Episode 9—Hosted by Travis Keyes
Panelists include Gail Mooney and Esteban Toro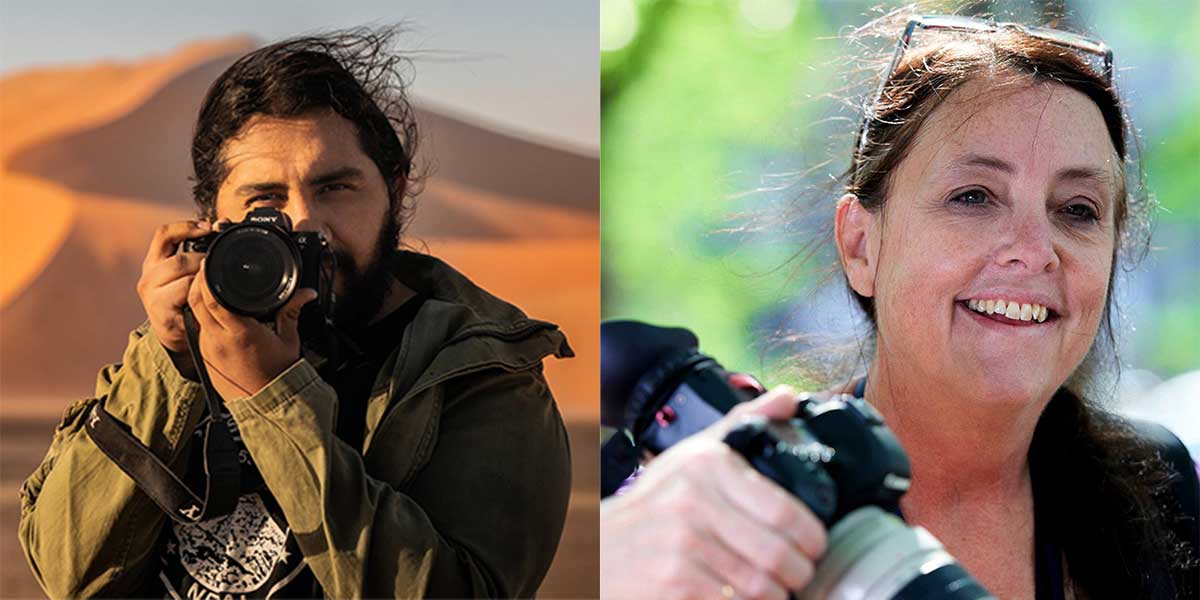 Open Talk, Episode 8 panelists include Esteban Toro and Gail Mooney
How to register or watch:
Esteban Toro, Photographer
Esteban Toro is a travel photographer. Using photography as an excuse, he has travelled to more than forty countries around the world. His passion is to experience the world and capture it all with his camera. He is a Sony ambassador, represented by YellowKorner Gallery worldwide, a photography professor, leading many creative workshops, photography expeditions and conferences about his own work.
Gail Mooney, Photographer
Gail Mooney is a graduate of the Brooks Institute of Photography in Santa Barbara, CA. She is a natural storyteller and her love for the experience is as great as her love of photography. She has created feature stories for the National Geographic Traveler and numerous stories for Smithsonian and Islands. Gail is also passionate about her self-initiated projects. Her first feature film, Opening Our Eyes was a joint creation with her daughter Erin. They traveled around the world for 99 days,creating a film about ordinary people, on six continents, making a positive difference.
---
April 30, 2020, Episode 8—Hosted by Travis Keyes
Panelists include Susan Magnano and Clifford Pickett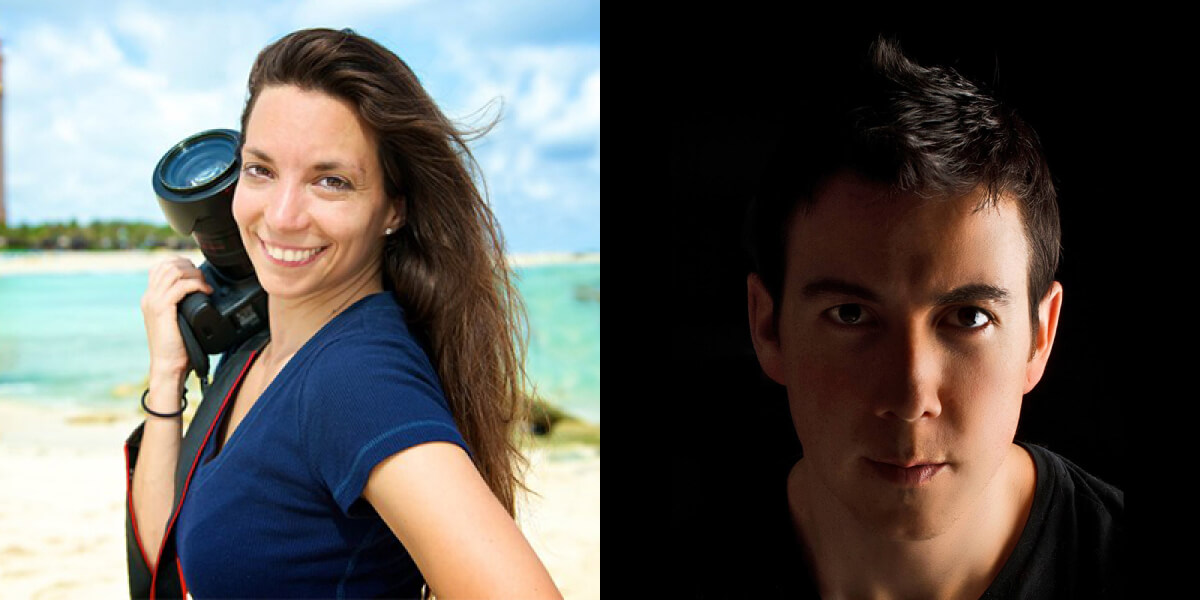 Open Talk, Episode 8 panelists include Susan Magnano and Clifford Pickett
How to register or watch:
Susan Magnano, Photographer at Photour Adventures
Susan Magnano is a photographer, an explorer and an educator who loves capturing the beauty of the people and places around her. As an award-winning photographer with over 15 years of experience, Susan is a respected educator in the industry and now shares her innovative techniques on her Photo Adventures.
Photour Adventures was created out of Susan's desire to share her passion for photography and travel through workshops and photowalks. She loves chasing the best light from sunrise to sunset through red rock canyons, lush forests and iconic city streets. Once the sun sets, Susan typically springs into action, teaching her favorite subject, light painting and shooting the stars till the wee hours of the morning.
She leads photowalks for Canon & B&H, partners with Merrell & Campmor and is an ambassador for Litra & Light Painting Brushes.
When she is not teaching, she is freelancing as a set photographer for the Food Network, working the red carpet for the Tribeca Film Festival and documenting natural disaster recovery sites with 8 Days of Hope and The Salvation Army.
Clifford Pickett, Photographer
Clifford Pickett is an NYC-based professional travel, humanitarian and commercial photographer, videographer and educator. He is also an FAA Certified Drone Pilot and Adobe Lightroom expert. He failed his first photography class. He waited until digital photography was good enough to avoid film. He's self taught, sourcing his education through modern methods rather than traditional ones. His approach to his work and his teaching is, as a result, both refreshing and rather unconventional, questioning everything about the standards and norms of creating images. He has learned to successfully operate at the edge of what is possible, leveraging the new capabilities of modern technology and developing techniques that allow him to overcome traditional photographic limitations while simplifying the process. His unique ability to take a complicated subject matter and distill it into its purest, most simple form, has led to a "more is less" approach to photography, workflow and editing. More often than not you'll find him shooting with an iPhone and a small aerial drone.
Professionally, he's developed several successful photographic enterprises, including an elite personal brand in digital photography, a commercial video production company, a 3D VR imaging business and a community-based platform for local artists in NYC to share their vision and work worldwide. He is an adjunct professor at NYU and a personal consultant for many of the biggest names inside and outside of the photographic industry. His work has caught the attention of many global brands such as Apple, Google, British Airways, Adidas, Estée Lauder, Sephora, Clinique and Lindblad Expeditions, among others, and his work has been featured by National Geographic, the Smithsonian, and various other publications and media outlets.
His approach to constantly adopting new technologies for creative means, paired with an unyielding drive to simplify the process has led to speaking engagements and curated photo experiences around the globe where he teaches others to "Lighten up" - to redefine image quality by focusing on what really matters, the light, the gesture, the moment and ultimately…the experience.
---
April 23, 2020, Episode 7—Hosted by Travis Keyes
Panelists include Katrin Eismann and Alex Garcia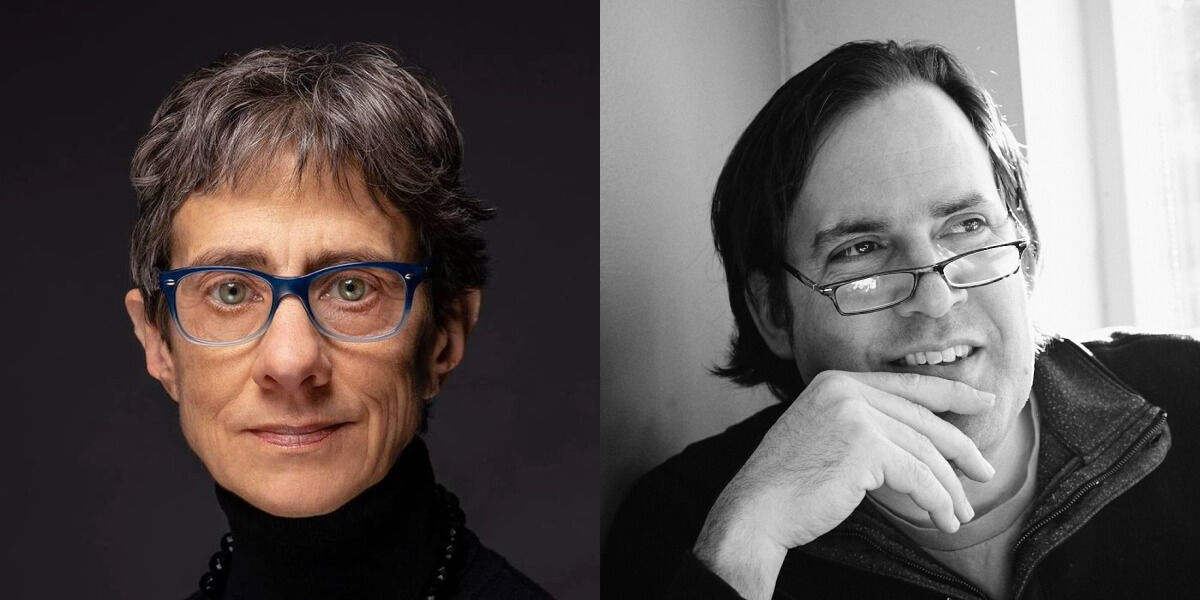 Open Talk, Episode 7 panelists include Katrin Eismann and Alex Garcia
How to register or watch:
Katrin Eismann, Product Manager @Adobe | Sony Artisan of Imagery
Katrin Eismann has been involved with digital imaging since 1989 and considered a pioneer in digital imaging. She is a well-regarded artist, author, and educator. She received my BFA degree in Photographic Illustration from the Rochester Institute of Technology and my MFA degree in Design at the School of Visual Arts in New York City. She has authored the Photoshop Restoration & Retouching and Photoshop Masking & Compositing and co-author of The Creative Digital Darkroom and Real World Digital Photography – all of which have been translated into numerous languages. Katrin is a popular speaker at the PMA, ASMP, PPA, PhotoExpo, and Photoshop User conferences. Her images have been featured in numerous books, magazines, and group and solo exhibits. She preently chairs the Masters in Professional Studies program in Digital Photography at the School of Visual Arts. She spends too much time in airports waiting for flights to domestic and international destinations to fulfill a busy and rewarding consulting.
Alex Garcia, Photographer
Alex Garca is a Chicago commercial photographer and photojournalist, and has been telling stories through some 6,000 assignments to date. Along the way, he have the rare distinction of being part of the highest awards in both advertising and editorial; a Titanium Lion at the Cannes Lion International Festival of Creativity and a Pulitzer Prize. Along with several other accolades, HarperCollins has called him "one of the world's leading photojournalists." Whether it be stills, motion or a hybrid shoot, he has learned to be resourceful, creative and dependable no matter the circumstance or level of production. He enjoys the benefits of being a sole photographer as much as he enjoys working with a team to achieve creative objectives and art direction on a larger production.
---
April 16, 2020, Episode 6—Hosted by Travis Keyes
Panelists include Nader Khouri, Robert Evans, and BP Miller

Open Talk, Episode 6 panelists include Nader Khouri, Robert Evans, and BP Miller
How to register or watch:
Nader Khouri
Nader Khouri is a recognized food & lifestyle photographer & director who will breathe a sigh of relief into your brand. His past life as a photojournalist taught him to approach his work with a sense of authenticity and he comes to every project with a great attitude and 110%. He shoots in his San Francisco studio or on location. Nader recharges by camping along the remote rivers and lakes of Northern California and for this health nut, hot dogs and marshmallows are not on the menu. If you're lucky, he'll share his campfire Shakshuka recipe with you and talk about why he loves the gluten-free and paleo diets.
Robert Evans
Robert Evans is a recognized is a Sony Artisan of Imagery and one of the most highly acclaimed wedding photographers in the world. His personal humility, positivity, and dedication to his craft sets him apart as a once-in-a-generation photographer. The growing list of recognizable personalities in the film, music and business world who have sought out Robert Evans to photograph their weddings and private events include, Jason Aldean, Miranda Lambert, and Blake Shelton, Shania Twain, Yahoo CEO Marissa Meyer, Tom Cruise, and Katie Holmes, Brad Pitt and Jennifer Anniston, Trent Reznor, Jim Carrey, Jenny McCarthy, Christina Aguilera and Google's Senior Vice President and Chief business officer Omid Kordestani.
BP Miller
BP MIller is an award winning photographer, photojournalist and speaker whose work has been published in both local and national publications like The Philadelphia Inquirer, The Philadelphia Daily News, Rolling Stone, and The New York Times. Subjects in front of his lens include local families and businesses, as well as national and international celebrities, politicians, and dignitaries. BP is the former Mid-Atlantic Chair of the National Press Photographers Association, and a former board member of the Northern Short Course In Photojournalism. He can be found speaking across the country about non-profit photography as well as photojournalists' rights.
---
April 9, 2020, Episode 5—Hosted by Travis Keyes
Panelists include Steve Giralt, Charles Chessler, and John Engstrom

Open Talk, Episode 5 panelists include Steve Giralt, Charles Chessler, and John Engstrom
How to register or watch:
Panelist Bios
Charles Chessler, Photographer at Charles Chessler Photography
Charles is a NYC based photographer primarily doing headshots for both creatives and corporate folks. He also teaches small workshops in NYC and has been partnering with Wild Tomorrow Fund, a wildlife conservation non-profit based in South Africa (Kwazulu-Natal). They bring passionate photographers to South Africa in support of WTF's work there. He is currently doing a portrait project, #facesofzoom, as a way of connecting with people at this time.
Steve Giralt, Visual Engineer at The Garage
Steve Giralt is a Director, Photographer, and Visual Engineer. He heads up The Garage, which is a NYC based tabletop production company. There he creates innovative and engaging content for food and beverage clients all over the world. He works for most of the top advertising agencies for brands like Pepsi, Hersheys, Starbucks, Dunkin, Kroger, Tim Hortons, and more. As part of his image making process he incorporates tools like robotics, 3D motion capture, pneumatics, Arduino, Phantom slow motion cameras and lots and lots of engineering. Although he didn't study engineering, he wishes he did.
John Engstrom, Cinematographer / Wwner at Scheimpflug
John Engstrom is a cinematographer, owner of Scheimpflug, and works out of Flug Films 3D Studio based in Hell's Kitchen, NYC. John began studying film, photography, and art at an early age. He attended Wayne State University in Detroit, Michigan, and grew up in the Motor City's famed car studios. John was a lighting designer for David LaChapelle, Peter Beard, and Patrick Demarchelier. John has traveled extensively, and has worked in more than 60 countries. John's focus has been commercials, fashion, and music videos. Clients include ABC, CBS, NBC, Fox, Warner Brothers, Alibaba, Ford Motor Company, Gillette, Macy's, Nike, Pepsi, and Jordan, just to name a few. Most recently worked on season 16 of So You Think You Can Dance, as well as Fox's Prodigal Son, and CBS's new Star Trek series "Picard." He lives in Montclair with his wife and son John.
---
April 2, 2020, Episode 4
Panelists include Heather Elder, Tim Tadder, Ramon Purcell, and Paul Gero
Open Talk, Episode 4 panelists include Heather Elder, Tim Tadder, Ramon Purcell, and Paul Gero
How to register or watch:
Panelist Bios
Heather Elder, Artist Representative
Heather Elder graduated from BU and started her career at an advertising agency on the east coast where she worked as an account person. It was while working on the Polaroid account that she realized her interest in commercial photography. She left the ad agency to become and agent and producer for a Boston based photographer where she used her agency background to developer own style. 25 years later from her offices in SF and NY she is still representing photographers and director, producing and hosting a podcast, writing blog and hosting a website for freelance art producers. Mostly though she is always thinking ahead.
Tim Tadder, Photographer + Director
Best known for his powerful portraits and high action intense sports imagery Tim has enjoyed the privilege of working with great creatives creating award winning campaigns (Communications Arts Photo Annuals, Graphis Golds, Kelly Awards, Archive Showcases, Addy's etc) for global brands like, Adidas, Budweiser, McDonalds, Under Armour, Coca Cola, Pepsi, Gatorade, Powerade, Sears, Craftsman, Mercedes Benz, Bud Light, Microsoft, Sony, Gillette and many more. Tadder has been ranked in the top 200 photographers worldwide by the prestigious Lürzer's Archive magazine 8 years running.
Ramon Purcell, Photographer
Nearing 20 years in the industry, creating, directing and problem solving has always been a passion and motivation for Ramon. With a diverse career in photography, his ability to adapt and create visual solutions for clients and their needs is unsurpassed. Rewarding projects have included documenting America's very first Airforce One restoration & flight; founding Boneyard Safari which focuses on preserving aviation history & honoring their dedicated crews; building well established relationships with clients across the nation that utilize RCP Photography time & time again with trust and confidence.
Paul Gero, Photographer
Paul Gero is a portrait and wedding photographer and has been working professionally for over 35 years. Prior to creating a portrait and wedding business he was a photojournalist for two major metropolitan newspapers (The Chicago Tribune in Chicago and Washington, DC and The Arizona Republic in Phoenix) and photographed thousands of assignments from pro sports, business portraits, documentary stories as well as general assignment work. His images have been published in magazines around the world during his career. Gero has been a Sony Artisan of Imagery since 2014 and speaks often about Sony mirrorless cameras at professional gatherings.